Regular price
$597.00 AUD
Regular price
Sale price
$597.00 AUD
Unit price
per
Sale
Coming Soon
View full details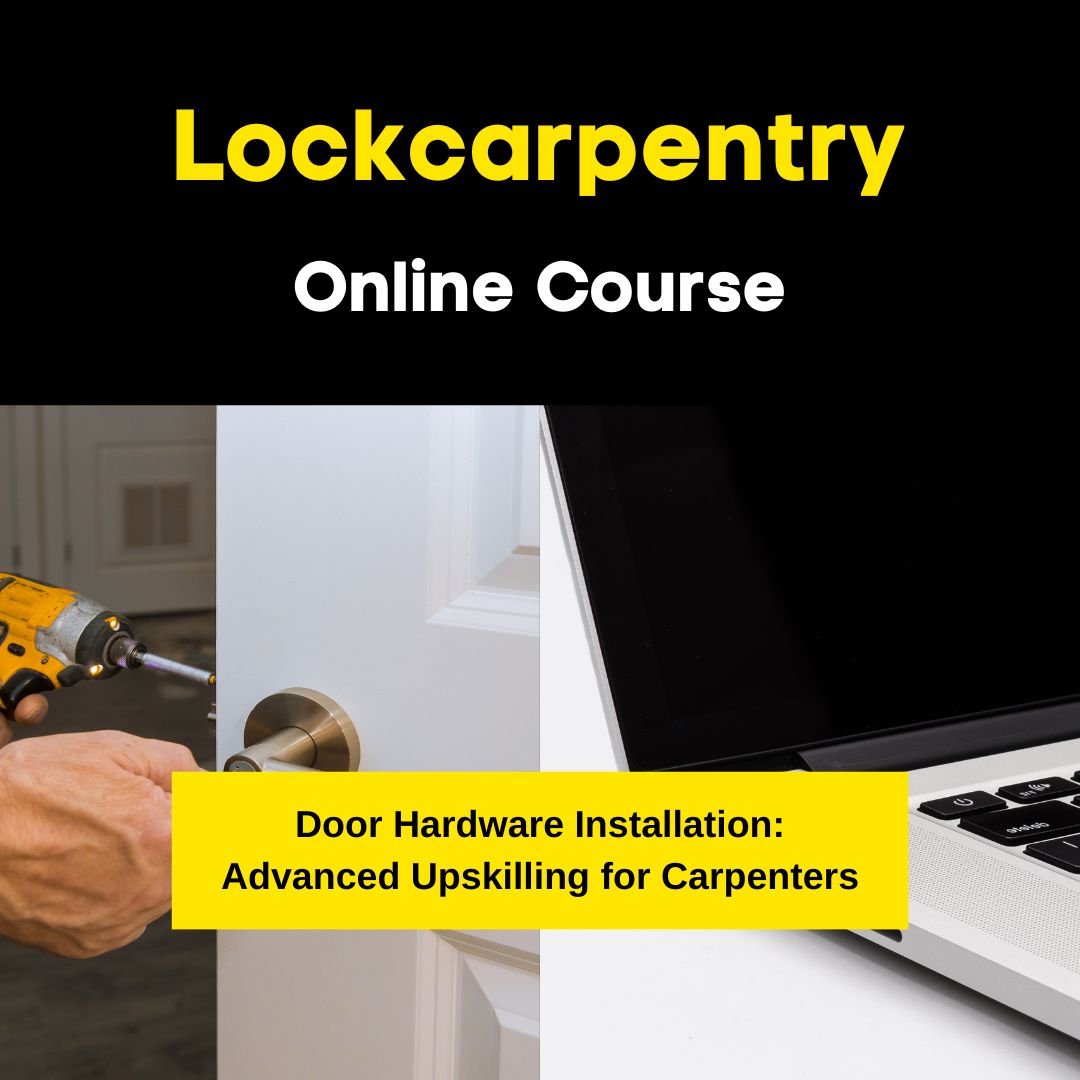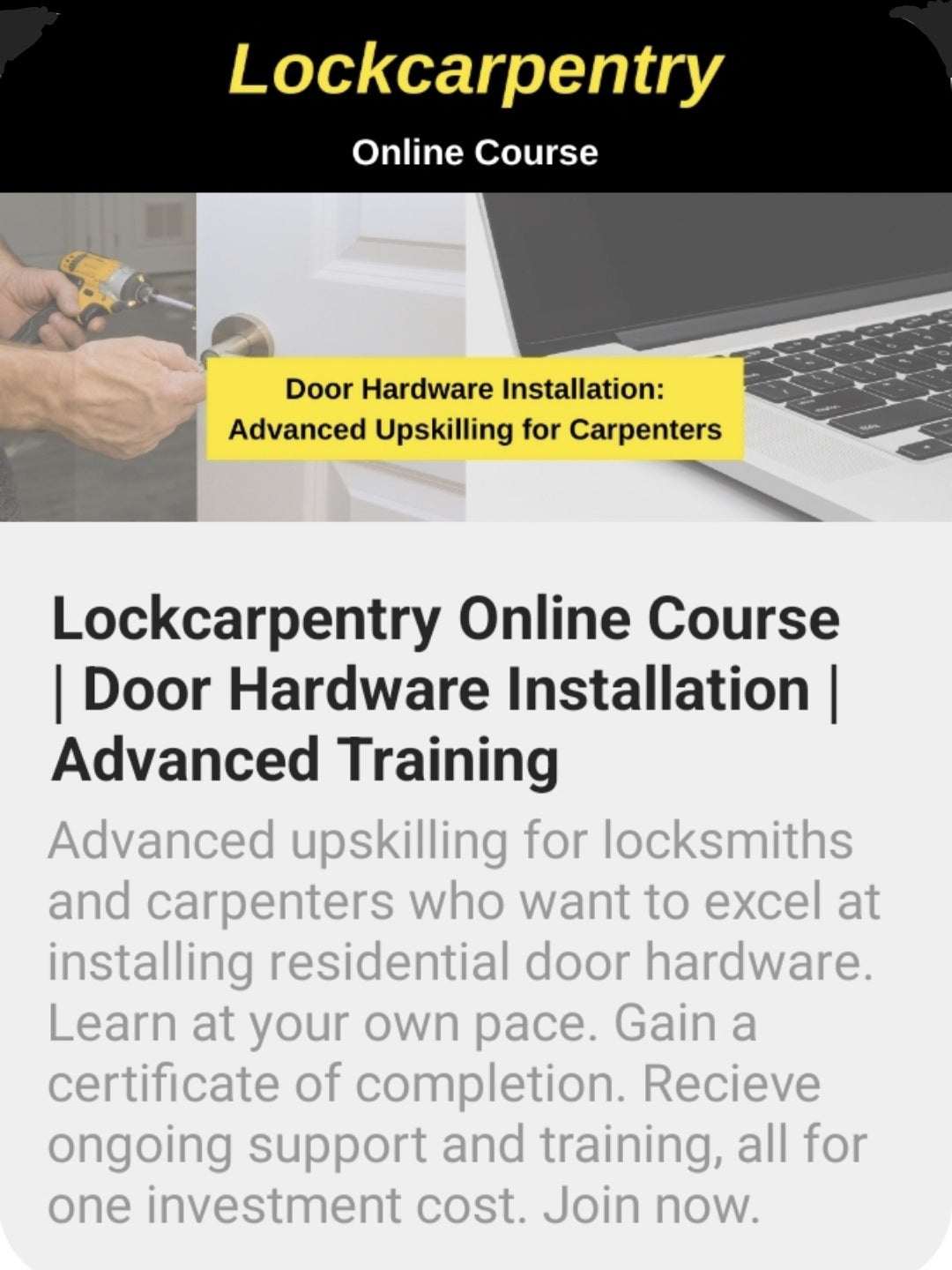 Collapsible content
Short Description

Improve your knowledge and skills in a niche trade called "Lockcarpentry". Become a student today!

Watch hours of video footage where Tony explains all the tips and techniques that he's learned over many years installing high-end residential door hardware.

There are test questions in each module and you are encouraged to submit your own questions for Tony to answer in the private 1 on 1 chat.

The carpentry / locksmith course has its own unique app and members group so it's easy to interact on the computer or mobile, wherever you are.
Tool Discounts

Lockcarpentry students enjoy a 10% discount off all full priced items at the Lockcarpentry Shop.
Lockcarpentry Online Course
Introduction
Join our comprehensive course to excel in installing high-end residential door hardware.
Link to the Lockcarpentry Online Course website.
Watch hours of instructional videos led by Tony, The TIDY TRADIE Lockcarpenter, learn insider tips and techniques honed over years of experience. Engage in test questions, submit queries, and engage in 1-on-1 private chats for personalised guidance.
This unique carpentry / locksmith course will help bridge the knowledge and skill gap between Locksmithing and Carpentry. The emphasis is on installing non-standard residential door hardware from around the world.
Join Today and Thrive
Our course features a dedicated app, fostering interaction across devices. Learn from anywhere, at your own pace, with no time pressure.
Access resources instantly, from photos and videos to documents and templates.
Acquire comprehensive clarity on installing various types of door hardware, including handles, locks, and more.
Participate In A Like Minded Community
You'll be a member of a private support group where you can ask questions and share knowledge within the community. This is where new friendships will be made.
Unlock Exclusive Benefits
As a student, you'll enjoy a 10% discount on all full priced items at the Lockcarpentry Shop.
Step Up Your Skills and Earnings
Elevate your hardware installation work and stand out amidst the crowd. In a world of compromised craftsmanship, be the expert clients seek.
Discover the latest techniques for high-quality installations and gain the confidence to share your work on social media.
Save time
You will save time by having instant access to resources. You'll have quick access to photos, videos, documents and templates with done for you elements. The library of information will continue to build as we grow.
Explore Your Potential
Whether you're a perfectionist carpenter or a passionate DIY'er, our course caters to your aspirations. Break through challenges, niche down your skills, and access a lifetime of updated tips and materials.
Enhance your confidence, expand your business opportunities, and boost your expertise in installing all types of door hardware.
What's in the Course?
Module 1 - Door hardware is called hard for a reason!
Understanding confusing instructions while under pressure.

Common problems with installing door hardware.

Non-compatible handles and locks.

Door thickness problems.

Missing parts.
Module 2 - Clients and suppliers.
Dealing with customers/clients.

Dealing with hardware suppliers.

Dealing with builders.

Dealing with designers.
Module 3 - Setting up and marking out.
Marking handle heights and other hardware positions.

Various ways of marking out to avoid error.

Working on a door vertically or horizontally.
Module 4 - Drilling, mortising and routing.
Drilling the face and edge of the door.

Mortising.

Plunge routing.

Trimmer routing.
Module 5 - Door hardware.
Handles.

Locks and latches.

Flush bolts.

Flush pull locks.

Strike plates etc.
Module 6 - Routers and trimmers.
What you need to know before buying a router.

Trimmer set up.

Router set up.
Module 7 - Router accessories.
Flush cut bits vs. plunge cut bits with copy rings.

Router accessories you will need to have.

Uses for each type of router bit.
Module 8 - Jigs and templates.
Various types of jigs and templates.

From basic to universal, adjustable and interchangeable.
Module 9 - Tools and accessories.
Tools commonly used by the

TIDY TRADIE

Lockcarpenter.

Basic and advanced.
BONUS MODULES
How to patch old holes in doors and jambs.

Cheat sheets, tips and tricks.

Door lock and latch diary.

Your exemption for not needing a security licence.

And much more!
The Transformation
Once you fully understand everything taught in this course, you will be much more confident and enthusiastic about installing all types of handles and locks.
You'll become an expert in the field in a quicker amount of time!
You will be more valuable as an employer or contractor.
Your reputation as an installer will grow exponentially.
Hardware suppliers will have more faith in recommending your service to their customers. 
You will have access to all the contents for life and have a support group to quickly answer your questions.
After you complete the course, there is the potential to receive door and lock jobs.
New training material will always be added so you will be plugged into continued learning.
Join Today for a Transformative Journey
The journey through the course could take at least 1-3 months, reaching a final exam at the end. 
All students that pass will receive a certificate of completion, signed by Tony, The TIDY TRADIE  Lockcarpenter.
From there the journey continues as more information is added, plus you will always have the online chat support with Tony and the group.
Are you ready to advance?